Music Connection: OLIVIA NEWTON-JOHN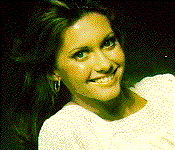 Introduction
I will not presume that you need me to tell you who Olivia Newton-John is. The fact that you are old enough to use a computer is indication enough that you are already familiar with at least some of Olivia's professional achievements. I do provide a partial (at this time) essay on her history, as seems to be obligatory for this type of endeavor, but I begin here with an encapsulation of my own personal history with Olivia.
I saw Olivia Newton-John for the first time in 1974 on a television game show entitled "Celebrity Sweepstakes" for which she was one of the celebrity guests. I was 10 years old at the time and, because Olivia's star had not yet begun to shine in San Diego, I had never before heard of her. About a month later, I heard the newly released song "I Honestly Love You" on a local radio station. Rather than attempt to describe the impact the song had on me, I will simply say this: After nearly 30 years, it is still my favorite song. The first 45 record I ever purchased was "I Honestly Love You"; the first LP I ever owned was If You Love Me (Let Me Know).
On March 24, 1976, just weeks after my 12th birthday, I attended my first concert: Olivia Newton-John live at the San Diego Sports Arena. I had an aisle seat in the fifth row on the floor. The concert was one of the most memorable occasions of my childhood. In August 1976, I saw Olivia perform for the second time, at the Greek Theater in Griffith Park, Los Angeles. All attendees were gifted with a red rose and autographed card from Olivia: a touch of class from a classy lady. I had my rose preserved and encased in glass; it resides as a cherished memento on my trophy shelf.
Six years went by before Olivia again toured in my region of the country, but the Physical tour of 1982 proved to be a spectacular event well worth the wait. I attended the final two shows of the tour: San Diego Sports Arena and Irvine Meadows Amphitheater. Both shows were added late to the touring schedule and were not even listed in the official concert program. Coincidentally, I sat in the exact same seat in the fifth row for the San Diego concert as I had for the 1976 tour.
I was able to meet and talk to Olivia (and her Koala Blue business partner Pat Farrar) after the second of two Koala Blue fashion shows in San Diego in 1990. I was pleased to find her quiet and unassuming after so many years of accomplishment.
I was among the first to secure tickets for the Caesar's Palace premiere show of her Back to Basics tour in 1992, her first scheduled tour in a decade, which was canceled with the devastating announcement of her illness. Her disclosure of and subsequent victory over cancer were nothing short of inspirational.
When Olivia withdrew from her professional career to concentrate on her recovery, I thought the Physical tour would prove to be my final opportunity to see her perform live. Happily, this was not the case. I was in attendance at the October 1996 taping in Hollywood of "Lifetime Applauds: The Fight Against Breast Cancer," hosted by Olivia and during which she performed three songs. I returned to Hollywood on March 15, 1998, for the world premiere of the 20th anniversary re-release of Grease and was lucky enough to be singled out of the massive crowd and gifted with tickets for the actual showing within the main theater of the Mann's Chinese Theatre. My luck continued when Olivia came to San Diego on July 13, 1998, to perform three songs at a live radio appearance at the Mission Beach Roller Coaster.
The Year 1999 started out with a bang when Olivia scheduled three shows in Las Vegas over the holiday, her first U.S. concerts in more than 15 years. I happily and proudly traveled to Las Vegas to participate in the festivities, meeting up with Olivia fans from all over the world. In July 1999, Olivia began a full U.S. concert tour, Olivia: One Woman's Journey. She appeared in San Diego on the evening of July 22 at Humphrey's by the Bay, a picturesque outdoor venue, and played to a sold-out audience that included me, once again watching from the fifth row. The performance was both playful and spectacular. Since then, I've been able to attend at least one performance in each of her scheduled US tours, even securing a backstage pass to meet and speak with her once again in 2001.
I have been a fan of Olivia's for three decades, through many ups and downs in her career. I watched her fame skyrocket to superstar status, and I enjoyed even her less critically acclaimed endeavors (some of which are her best work, in my humble opinion). This age in which celebrities bare it all in Playboy or appear on the covers of their biographies in their underwear makes me appreciate Olivia even more for the poise and dignity that she has been able to maintain throughout her career.
I am, by far, not the most fanatical of Olivia's fans, but my admiration of her work and her character have been steady and true. It is, perhaps, not much to offer in return for the joy of 30 years of music and the memories tied into it, but this page is my offering, my tiny tribute to Olivia Newton-John.
---

Return to main Olivia page.

Return to the Music Connection index page.
---
Last Updated: May 29, 2004
WebMaster: Lori A. Buck



shakesp95@aol.com
---